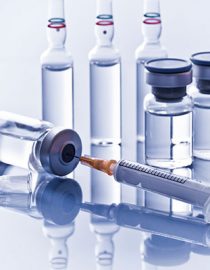 Getting Vaccinations With MS
If you suffer from multiple sclerosis, you may have concerns about the safety of various vaccines, considering that some vaccines contain live bacteria or viruses that could potentially cause a flare-up.
The Recommendations
The following general and specific recommendations have been suggested by the Academy of Neurology and the Immunization Panel of the Multiple Sclerosis Council for Clinical Practice Guidelines:
The influenza, hepatitis B, varicella and tetanus vaccines are safe for MS sufferers
If you experience a significant relapse (that impairs your daily activities ) you should postpone the vaccination for four to six weeks.
Inactivated vaccines are generally seen as safe for MS sufferers, whereas the live, attenuated vaccines (that contain live or attenuated viruses and bacteria) should not be used by MS sufferers.
If you take immunosuppressant drugs such as corticosteroids, Imuran or Cytoxan you should talk to your specialist about the risks/benefits of taking live vaccines or if a close family member takes a live virus vaccine (live vaccines can cause the infection they are supposed to prevent because they contain live pathogens).
The Research
Only a few vaccines have been tested in clinical studies for their safety in people with MS. In some cases, the vaccines were found to be safe; in other cases, they were linked with serious side effects.
For example, a 2011 study featured in New England Journal of Medicine showed that tetanus, hepatitis B and influenza did not increase the short term risk of relapses. The long-term risk is not known.
An older study published in 2003 in Archives of Neurology found that hepatitis B, influenza, tetanus, measles and rubella vaccines didn't increase one's risk of developing MS or optic neuritis – inflammation of the optic nerve that may cause a complete or partial loss of vision, a condition experienced by some MS sufferers.
However, a 2011 study featured in Archives of Neurology showed that yellow fever vaccines did significantly increase the risk of MS acute attacks within 6 weeks after vaccination. If you travel to an area where yellow fever is prevalent, you should talk to your doctor about the risks/benefits of taking this vaccine.
Two studies conducted in 2009 linked Gardasil (the HPV vaccine) with loss of myelin (as happens in MS) labeled as multifocal and atypical demyelination syndromes, which was been found in five patients.

Other Considerations
VAERS (Vaccine Adverse Events Reporting System) is a national vaccine safety surveillance program developed in 1986, co-sponsored by Centers for Disease Control and Prevention (CDC) and the Food and Drug Administration (FDA). It is updated regularly, it collects information about adverse reactions associated with vaccines, and its data is available to everyone for review.
Since not all vaccines had been researched for safety, you should always talk to your doctor about any risks of taking a vaccine. Since MS is a disease affecting adults, and most vaccines are given during childhood, the most likely things you'll need to ask about are vaccinations for travel and the annual flu shot.
Resource: