Krystina
About Krystina
Krysti is a 30-something wife to Brad, and mother to Logan. She also happens to suffer from anxiety and has had migraines since she was 12 years old. In August of 2017, she also had a meningioma (a benign brain tumor) removed.
She writes for the anxiety and migraine of NewLifeOutlook, as well as a variety of other communities.
She is an RN with over ten years of nursing experience, which has enabled her to help many people with a variety of chronic conditions in her career. Her nursing experience has spanned from floor nursing on a telemetry unit, working with heart patients, to working in an allergy/immunotherapy clinic, to working in a diabetes education office. She enjoys helping people living healthier, more fulfilling lives, while also learning from her patients.
In addition to her work, she enjoys reading, yoga (she is a yoga instructor and believes it can help with chronic pain!), traveling, cooking and baking, and enjoying a good cup of coffee.
In addition to her freelance writing and nursing career, she enjoys writing for pleasure. Her son has food allergies, and she enjoys blogging about her family's journey.
Krystina's
Work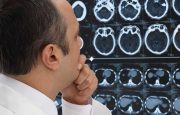 Parkinson's and MS are two conditions that share many of the same symptoms but have very distinct differences.