Debra
About Debra
After spending most of her life traveling the world working on the technical end of large scale concerts and conferences, Debra Robert was diagnosed with MS on Christmas Eve, 2014. Now unable to work in the field she's loved, Debra is determined to live a quieter, more internal life with MS.
Debra writes, sharing observations, experiences and lessons learned from both independently exploring the globe and surviving/escaping a years long abusive relationship.
Weaving a bit of humor and personal observations into her articles while providing needed MS information and some plain old camaraderie, she hopes she can help others (and herself) lead a life of balance and joy with MS.
When not writing in her journals or reading historic fiction, Debra is an abstract artist. She enjoys evenings with her husband and exploring the East Coast Florida night sky through a good telescope and a trusty set of old binoculars.
Debra has a BA in Theatre Arts and a Masters in Film Producing/Production Management. She is excited to have become part of the NewLifeOutlook family and wishes to bring some comfort, humor and valued information to the MS community.
Debra's
Work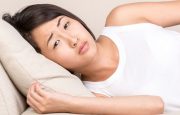 "What does MS pain feel like?" Debra explains what it's like to experience MS pain physically, emotionally and mentally.